ABOUT SOUL GRIND
If you're looking for a killer skateboard (or just a few parts), Soul Grind Skate Shop is the spot! We can build you a custom set-up or grab one off the rack. We offer shipping!

Soul Grind Skate Shop is a family-owned and operated business in Pacific Beach, San Diego since 1993
Soul Grind skate shop is the best at the beach. We have been selling cruisers, longboards, street boards and accessories since 1993.  This is just one of the services we offer along with replacing worn and/or broken parts free of charge with purchase of new parts.  We stock a large selection of long boards, cruisers, and street boards. Our accessory department includes a wide range of products including but not limited to decks, bearings, trucks, wheels, hardware, bushings, gloves and grip tape.

The store also has an extensive collection of vintage and modern skateboards that define the evolution of modern skateboarding from the roller-skate-on-a-two-by-four to modern boards signed by pro's.
SOULGRIND HISTORY
Established in 1993.
Soul Grind has been owned and operated by Pablo Smith since the very beginning. With the help of artist, Phil Goodrich, Pablo opened a tiny 10x20 foot "hole-in-the-wall" brick and mortar store after selling skateboards at San Diego's Spring Valley swap meet for over 20 years. With his contacts, and skills acquired  while running the swap meet business, Pablo found success in the retail skateboard biz. Today Soul Grind is a PB landmark which has evolved from the 10x20' space to a 600 square foot skateboard heaven which still provides the same friendly and genuine service it has since the start.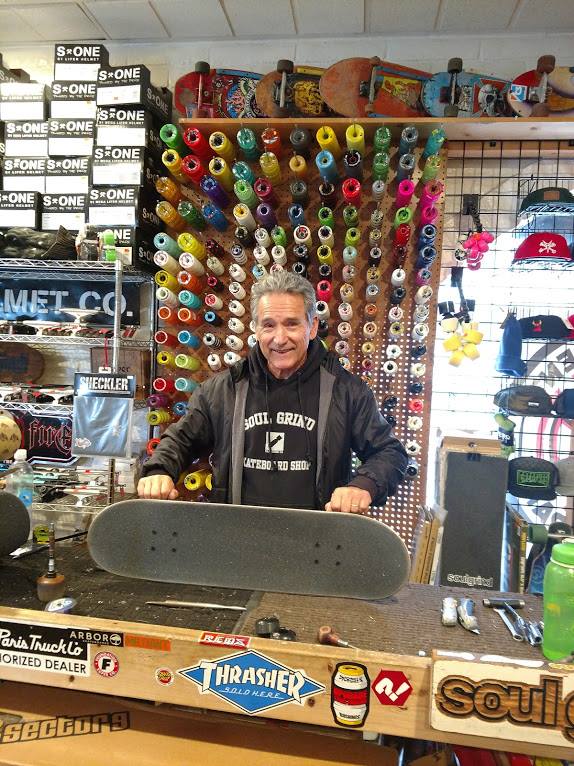 MEET OUR FOUNDER
Pablo S., Soul Grind Founder & Owner
His business is selling skateboards but his love is surfing.  Growing up in San Diego Pablo was always looking for a way to make a living and still get in the water every day. Soul Grind has set him up with the right platform to do just that.  He enjoys surfing in his free time just for fun and also competes regularly in his age group in the California Coalition of Surf Clubs. As a part of Pacific Beach Surf Club he is able to share the stoke of surfing with the community through fundraisers, special events and competition.  This is not to say that Pablo doesn't put his time in at the shop and works hard to keep the doors open so that you, our valued customer, can come in and get what you need to keep you skating. 😎